ZamCrew : December 2016
Happy Thursday!
I promised a post about our most recent trip to Zambia a couple weeks ago... sorry for the delay!
We had the most amazing trip with 2 of our best friends in December! After every trip, I always want to say -- BEST TRIP YET! And every trip we've ever been on has its own unique highlights. But I've been telling everyone -- it was our most productive and rewarding trip yet!
I arrived in Zambia a week ahead of the rest of the crew. Tony, Carol, and I accomplished so much administrative and planning stuff during the week! It was incredible. To say Tony and Carol are thriving in their role as In-Country Directors would be a total understatement. The love they have for Kunchubwe Village is SUPER evident and the love the people have for them is just as obvious. The highlight of my whole trip was participating with Tony and Carol in their day-to-day work and watching them love (almost) every second of it.
Highlights from my solo-portion of the trip include:
signing microloans for each of our Chicks Empowered ladies for them to buy seed and fertlizer to grow 3,000 pounds of maize!
A Chicks Empowered 1-year Celebration party to Chaminuka Lodge
Preaching Sunday morning on gratitude in CFC Kunchubwe Village and riding with 10+ people in a small van to and from church (an hours drive)
Unfortunately, David and crew's flight to Zambia had a slight detour when their flight to Dubai was rerouted to Kuwait! They arrived a day later than planned which meant they had to hit the ground running right off the plane!
Like I said, Carson and Jodi are two of our very best friends. So it was amazing to watch them experience Zambia for the very time. Jodi is a Pediatric ICU nurse and Carson has worked in Children's Ministry for almost a decade. A huge goal for this trip was simply to love on kids. And thats exactly what we did!
Day One - playground building and women's health
While Jodi and I met with the Chicks Empowered ladies and learned about their women's health knowledge and culture, the boys were melting away in the hot sun building the playground. Day One in Kunchubwe was pretty rough for the guys. The lumber for the playground was 100% untreated, dripping with sap - and of course there are no power tools in the village - so they sawed away for hours with a dull saw. By lunch time, not much progress was made and the boys were getting discouraged. We called a couple Love Abounds Crew guys over to help in the afternoon and things got much better! After lunch, Jodi, Carol and I drove around the village handing out bottles of cold water and advertising the playground opening!
Day Two - Chaminuka Lodge
Jet Lag + Hot Sun + Play-ground Building = Exhausted Crew. When the school we planned on teaching at this day was actually closed for the month - we decided it was the perfect day to go to Chaminuka!
Day Three - Playground building pt 2
On Wednesday, we're back in Kunchubwe Village building playgrounds! Finally - swingsets and seesaws!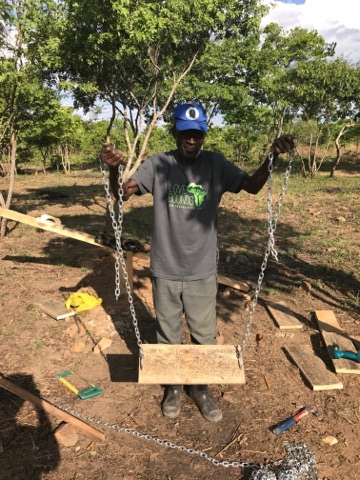 Day 4 - Drilling wells!
On our fourth day we drilled two wells in the greater Kunchubwe Village area. In both locations, the people were walking around 5km to get water! As we drilled, crowds gathered to see they now have access to clean water! We loved playing with the kids who hung around as we watched!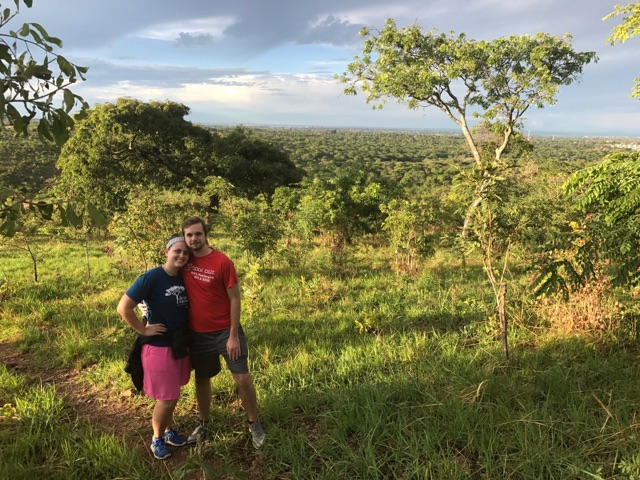 Day 5 - paintball with love abounds crew
One of the highlights for the whole trip was meeting the members of the Love Abounds crew. This group of guys have really grabbed on to Love Abounds' vision for Kunchubwe Village and are doing everything they can to make it happen! We celebrated their awesome work building Life Okendewa's house, bathrooms, showers, and kitchen by taking them to play paintball! It was the most hilarious - AWESOME - time together!
our final day - the playground grand opening!
On our last day in Zambia we had the playground grand opening. Wow. All the hard work of building the playground was totally worth it when we saw the look on the kids faces playing for the first time. For most of the kids, it was their first time swinging or riding a seesaw. It brought our hearts so much joy to watch them have a blast on their community playground! We served over 100 people lunch (chicken, nshima, and veggies) and taught them how to wash their hands before eating! The Chicks Empowered ladies cooked for us and the Love Abounds crew served everyone their food. It was amazing to see everyone at Love Abounds serving their community with love and gratitude. For the first time in Love Abounds history, it really felt like we were making a difference in the community as a whole - not just in the individual lives of our team members. It was an amazing amazing day.
It was truly an amazing trip - productive, fun, and confirming! Thank you to all who made it possible through giving! We appreciate you all so much!
Bethany